Anatomical models are a great educational tool to study and explain the internal and external structure of the human body as well as the various functions of the body's systems. Students interested in the medical profession as well as doctors, professors, and health care professionals profit from the realism of the models. The wide range of anatomical models 3B Scientific offers includes human muscle models, individual bones and joints, spines, vertebrae, skulls, full-size skeletons, miniature skeletons, dissectible human torso models, brain models, models of the teeth, jaw and dentition, heart and circulatory systems, the human digestive and urinary system, pregnancy and birthing models.

Anatomical wall charts and posters from 3B Scientific® are ideal for teaching human anatomy, patient education and medical studies! All anatomy charts are available in 19.7 x 26.6 in (50 x 67 cm) unless otherwise stated. An excellent addition to anatomical models in the classroom or doctors office.

Available in 3 versions, paper, laminated and many also come as STICKYcharts. Posters are available in English, French, German, Spanish, Portuguese, Italian and several other languages.

3B Scientific Anatomical Software is ideal for displaying the human anatomy in 3D allowing detailed examination of every part of the human body. Using high quality digital images & animations, anatomical software allows you to see muscle layers, bone and organ placement and how the anatomical structures work independantly and together – watch the physiology of your body on one convenient screen! Be sure to check out our Primal Pictures software showing you a complete, detailed and accurate 3D model of the human body or shop for one specific part of the body you wish to study.

Whether you are doing community outreach or working in an academic setting, we've got the visual aids to make a compelling case for choosing and maintaining a healthy lifestyle. Teach the new standards of nutrition with the MyPlate Plate – a durable plastic plate featuring the MyPlate USDA graphic to help us fill our plate with the proper ratio of foods. Table-top displays cover a range of nutrition related topics including obesity and common eating disorders. Use the many convenient display cases to create a dialog on topics such as the consequences of smoking, drug and alcohol abuse. Best-selling self exam and reproductive health products for education include realistic BSE and TSE models. Shop the many replicas to demonstrate the proper use of male and female contraceptive devices as well as 3-D displays on the topics of STD's and a Guide to Contraceptives. If health education is what you need to cover, 3B Scientific has you covered!

3B Scientific is more than just human biology! You can teach and learn about zoology with our animal skeletons and animal models. Botany models, including cellular and molecular models, are great for engaging students in group and hands-on learning. And what science lab would be complete without student microscopes, microscope slides, balances, scales and experiment supplies?

Medical simulators and clinical skill trainers are an effective tool in medical education. They help train students, doctors, medical personnel, nurses, rescue teams and midwives in developing the necessary skills and techniques before working with a patient.

Our geek gifts and novelties make gift giving super easy, super geeky and super fun! Looking for geek jewelry for that special someone? Check out our Molecular Jewelry – they've been best-sellers for years!  Speaking of best-selling, our Chemistry Geek Gifts always tops the charts.  This year, the Periodic Beer Glass and the Caffeine Molecular Mug is at the top of everyone's geek gift list!  
Geek T-shirts with Anatomy, Biology, Chemistry, Mathematics and Physics humor make memorable geek gifts for those on a budget. We even have apparel for the little ones.  Our Baby Genius Periodic Table Onesie is a top seller.  Silk neckties with medical themes make great geek-chic gifts for health care  professionals. And be sure to check out Giant Microbes, Plush Particles and Little Thinkers which make a great desktop gift that is also cute and cuddly!

Acupuncture is the procedure of inserting and manipulating needles into various points on the body to relieve pain or for therapeutic purposes. In China, the practice of acupuncture can perhaps be traced as far back as the Stone Age. In Traditional Chinese Medicine (TCM), the body is treated as a whole that is composed of several "systems of function" known as the zang-fu. These systems are named after specific organs, though the systems and organs are not directly associated. The acupuncturist decides which points to treat by observing and questioning the patient in order to make a diagnosis according to the tradition which he or she utilizes. In TCM, there are four diagnostic methods: inspection, auscultation and olfaction, inquiring, and palpation.

Our therapy product selection is designed to fill the needs of today's therapy professional with top quality products at competitive prices. 3B Scientific offers a diverse range of Electrotherapy and Ultrasound products, Massage tables, Fitness and Rehab products, Kinesiology Tape, Pilates and Yogaequipment.

Students will gain hands on experience in the fundamentals of chemistry by constructing models of organic and inorganic structures representing numerous chemicals, molecules, crystals and other compounds. Build hundreds of different structures while gaining an understanding of elemental particles.

At 3B Scientific, we believe hands-on, inquiry-based education lies at the heart of producing new generations of creative, impassioned scientists that are destined to make the world a better place. We only carry engaging, exciting, simple, and thought provoking products that are in-line with this vision. We want students and teachers to love science as much as we do.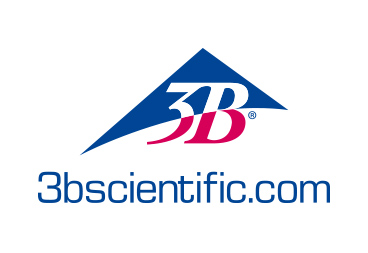 ANATOMICAL AND EDUCATIONAL MODELS