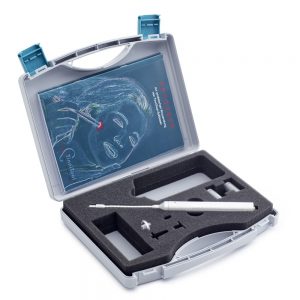 DOES IT WHISTLE, RING, ROAR OR DRONE IN YOUR EARS?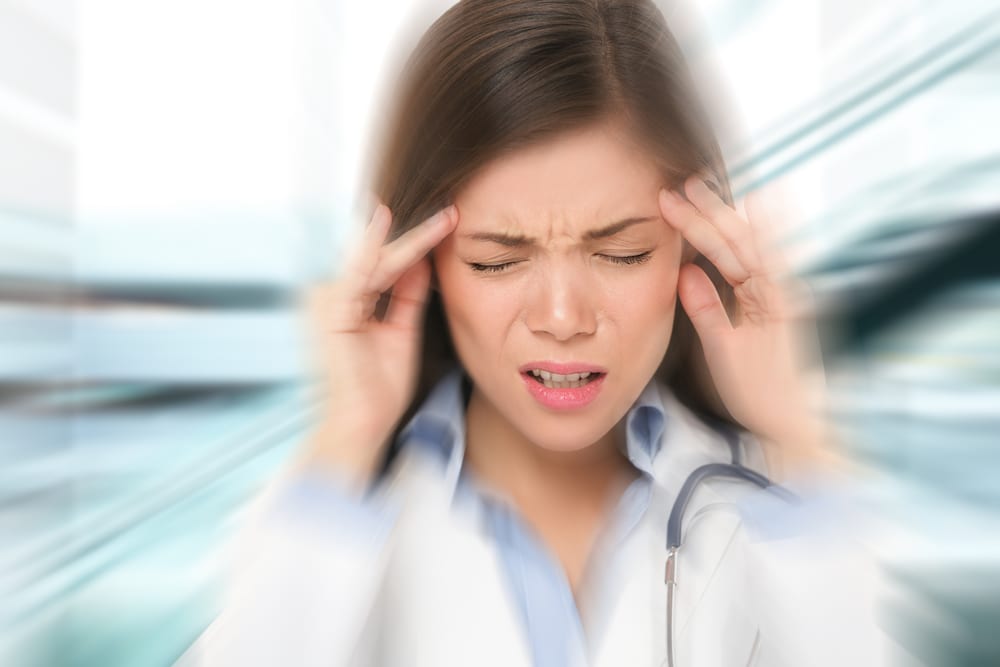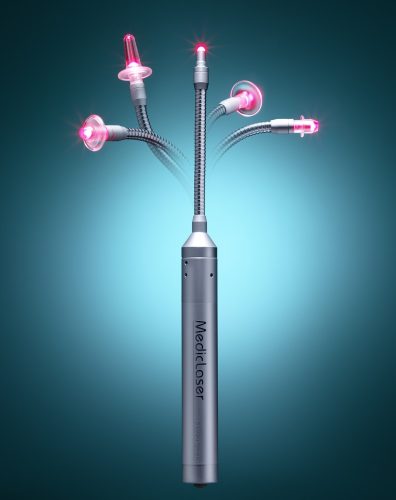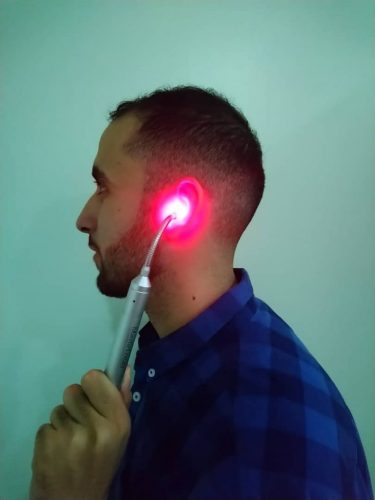 The treatment with the EarLaser4 is completely safe and painless. The laser beam even penetrates the deeper subcutaneous layers and works as curative bio-stimulation directly on the metabolism in the connective tissue. This leads to rapid regeneration of the hearing cells, stimulation of the immune system, acceleration of cell division and activation of specific defensive molecules. More than 40'000 affected persons have already been successfully treated with this system.
Many disorders arise through a deficiency of ATP (adenosine triphosphate), the cell energy necessary for life. ATP is a key substance in our cells. The mitochondria (cell power-plants) provide ATP energy for the cell processes through glucose combustion. ATP deficiency leads to cell damage and destruction in the end, but concentrated EarLaser4 light (660 nm wavelength) stimulates glucose combustion to improve the ATP supply. The EarLaser4 therapy can therefore accelerate the regeneration of damaged cells in the auditory system.
The principle of EarLaser4 is to project the needed energy concentratedly and precisely on the ailing area by means of an elaborate fiberglass cable. With the optimized EarLaser4; we set new standards regarding product quality and ease of handling. Due to the perfect positioning of the EarTool the laser beam can reach the inner ear more exactly.  
The laser treatment underwent successful long-term testing in hospitals and in physician practices. It was submitted to extensive medical tests and proven scientifically by various medical studies. The safety and effect of the EarLaser4 were attested and certified medically.
Suitable with symptoms like:
      – Acute and chronic tinnitus since 3 years
      – Partial deafness due to tinnitus
      – Morbus Ménière (dizziness)
      – Acute hearing loss and hearing distortion
      – Consequences of a middle ear inflammation
      – Circulatory problem in the inner ear
Output power: 100 mW
Wavelength: 660 nm
Treatment time: ca. 2 minutes per day
Skin penetration: ca. 3 cm
Warranty: 2 years
Battery operation: 2 x 3.5V (CR123)
Laser protection class: 1
Medical device class: IIa
Medical device testing: CE (Europe), CB (International), ETL (USA/Canada)
Patents: CH (699352), EU (06761280.4), Intern. (PCT/CH 2006/000429)
The MedicLaser in conjunction with the EarTool can be used for the following applications:
| | |
| --- | --- |
| • Ear pressure: | 1 x per day, 2 minutes, for at least 3 weeks |
| • Tinnitus: | 1 x per day, 2 minutes, for at least 10 weeks |
There is an extensive instruction manual enclosed, which explains all treatment methods simply and in detail.
♦ The treatment time may be extended, depending on the degree of severity.
CERTIFICATES AND ACCREDITATION 
Our products and our business are subject to the most scrupulous ISO 13485 quality checks. Both have been certified in accordance with the strict guidelines for medical devices. We have CE marking and operate in accordance with EU guidelines 93/42/EWG. Our work is supervised by the Swiss accreditation body and is therefore directly affiliated to the European Accreditation System.
TinniTool ProfiLaser meets requirements as per:

– ISO 13485 + 14971
– CE (Europa) 93/42/CEE
– CB (Internazionale) IEC-EN 60601
– ETL (USA/ Canada) UL 60601

– IEC 60601-1 = Medical electrical equipment: General requirements for safety
– IEC 60601-1-2 = Medical electrical equipment: General specifications for safety
– IEC 60601-1-6 = Medical electrical equipment: General requirements for basic safety and essential performance – Col-lateral standard: Usability
– IEC 60601-1-11 = Medical electrical equipment: General requirements for basic safety and essential performance
– IEC 60825-1 = Safety of laser devices: classification of facilities and requirements
– IEC 62366 = Medical devices – Application of usability engineering to medical devices
– IEC 980 = Graphical symbols for labeling of medical devices
– Risk analysis in accordance with DIN-EN-1441 and EN-ISO-14971
Evaluation of the customer satisfaction among users of the TinniTool MedicLaser
Finn Andersen, Gabriele Deterville, IHA-GfK, ISO-certified (ISO-9001), in accordance with the standards of Swiss-Interview
Low-level laser therapy for the treatment of tinnitus with TinniTool EarLaser
Dr. Domenico Cuda, Dr. Antonio R. de Caria, ENT Department, Piacenza Clinic, Italy / Published in the "International Tinnitus Journal" Vol.14, No.2, 175-180 (2009)
The effectiveness of soft laser therapy for tinnitus and sensory hearing loss
Dr. Mohammad Al-Masri, Ph.D.; Lina Abu Khader, MSc., Mohammad Tawalbeh, AL-Ahliyya Amman University
TinniTool Low level laser therapy in patients with complaints of tinnitus
Ahmed H Salahaldin, Khalid Abdulhadi, Nihal Najjar, General Hospital, Hamad Medical Corporation, Qatar
TinniTool Low Level Laser Therapy: Tinnitus subjective characteristics and measurements
Prof. M. Savastano (MD), L. Termine (Tech), V. Prosenikliev (MD), University of Padua (IT)
Low-level laser therapy for tinnitus
Peng Z, Yiu-Qi Chen, Head and Neck Surgery, Beijing Tongren Hospital, Capital Medical University, China
Low-level-laser-therapy in patients with chronic cochlear dysfunction
Dr. Stefan Tauber et al., HNO-Universitätsklinik und Laser Forschungslabor, Universität München
Neural correlates of transmeatal cochlear laser (TCL)
Christian M. Siedentopf, Department of Radiology II, Division of Neuroradiology, University Hospital of Innsbruck, Austria
Ex-vivo laser penetration study
Dr. Beyer, Dr. Tauber
Comprehensive therapy of patients suffering from Tinnitus
M. Prochazka, R. Tejnska
REFERRENCES
Jan Tunér, DDS Laser-Medical Society Grängesberg, Sweden
 

A new and promising indication for laser therapy is tinnitus. This inner ear disease is a growing problem in noisy modern society and the number of persons suffering from tinnitus is increasing. Traditional treatment for tinnitus is psychological support or various masking procedures. Acupuncture and ginko extracts have been tried with limited success. Laser therapy alone offers a new and promising treatment modality.

The correlation between tinnitus/vertigo and cranomandibular disorders (CMD) has been known for quite some time, yet few dentists seem to be aware of this. It is not natural for the dentist to ask, nor for the patient to inform the dentist about such a situation since it does not appear to be a dental indication. However, quite a number of tinnitus/vertigo patients will be relieved of their symptoms if a proper CMD treatment is performed. Low level lasers have been used to treat tinnitus patients with reasonable success, if sufficient energy and suitable treatment technique is used. These lasers have also proved themselves successful in the treatment of CMD. It is obvious, therefore, that low level laser therapy is an appropriate treatment modality for the yet undefined subgroup of tinnitus/vertigo patients with a CMD background. Laser therapy will reduce pain levels, ease muscular spasms and revert the vicious circle

Tauber S, Schorn K, Beyer W, Baumgartner R., Department of Otolaryngology, Ludwig-Maximilians-University of Munich
 

Low-level-laser-therapy (LLLT) targeting the inner ear has been discussed as a therapeutic procedure for cochlear dysfunction such as chronic cochlear tinnitus or sensorineural hearing loss. Former studies demonstrate dose-dependent biological and physiological effects of LLLT such as enhanced recovery of peripheral nerve injuries, which could be of therapeutic interest in cochlear dysfunction. To date, in patients with chronic tinnitus mastoidal and transmeatal irradiation has been performed without systematic dosimetric assessment. However, light-dosimetric studies on human temporal bones demonstrated that controlled application of laser light to the human cochlea depends on defined radiator position within the external auditory meatus. This feasibility study first presents a laser application system enabling dose-controlled transmeatal cochlear laser-irradiation (TCL), as well as preliminary clinical results in patients with chronic cochlear tinnitus. The novel laser TCL-system, consisting of four diode lasers (lambda=635 nm-830 nm) and a new specific head-set applicator, was developed on the basis of dosimetric data from a former light-dosimetric study. In a preliminary clinical study, the TCL-system was applied to 35 patients with chronic tinnitus and sensorineural hearing loss. The chronic symptoms persisted after standard therapeutic procedures for at least six months, while retrocochlear or middle-ear pathologies have been ruled out. The patients were randomised and received five single diode laser treatments (lambda=635 nm, 7.8 mW cw, n=17 and lambda=830 nm, 20 mW cw, n=18) with a space irradiation of 4 J/cm2 site of maximal cochlear injury. For evaluation of laser-induced effects complete otolaryngologic examinations with audiometry, tinnitus masking and matching, and a tinnitus-self-assessment were performed before, during and after the laser-irradiation. The first clinical use of the TCL-system has been well tolerated without side-effects and produced no observable damage to the external, middle or inner ear. Changes of tinnitus loudness and tinnitus matching have been described. After a follow-up period of six months tinnitus loudness was attenuated in 13 of 35 irradiated patients, while two of 35 patients reported their tinnitus as totally absent. Hearing threshold levels and middle ear function remained unchanged. Further investigations by large double-blind placebo controlled studies are mandatory for clinical evaluation of the presented TCL-system and its therapeutic effectiveness in acute and chronic cochlear dysfunction. Used by permission of the Czech Society for the Use of Laser in Medicine.

Pal'chun VT, Lapchenko AS, Kadymova MI, Kucherov AG.
 

59 patients with neurosensory hypoacusis and 45 with Meniere's disease underwent helium-neon laser intra- or supravascular radiation of blood. The treatment proved effective in acute neurosensory hypoacusis and Meniere's disease.

Dr. Beyer W et al.
 

The light distribution inside the cochlear windings produced by irradiation of the tympanic membrane was quantitatively measured ex vivo for wavelengths of 593, 612, 635, 690, 780 and 805 nm by means of video dosimetry. The transmission of light across the tympanic cavity and the promontory depends strongly on the wavelength. Spatial intensity variations of a factor of 10 and more inside the cochlear windings have been measured. The clinical study was performed with 30 patients suffering from chronic permanent tinnitus. 5 irradiations within 2 weeks each with a space irradiation of 4J/cm2 were applied at the cochlear position to be treated. Diode lasers of 635 or 830 nm, 15 patients each, were used. During and after irradiation there was no significant change of hearing. However, 40% of the patients reported a slight to significant attenuation of the tinnitus loudness of the treated ear. There was no difference between the two wavelength groups.

Gungor A, Dogru S, Cincik H, Erkul E, Poyrazoglu E.; Department of Otolaryngology, Haydarpasa Military Hospital, Istanbul, Turkey.
 

Objective: To evaluate effectiveness of 5 mW laser irradiation in the treatment of chronic tinnitus. Study design: Prospective, randomised, double-blind study. Methods: This investigation included 66 ears in 45 patients with chronic unilateral or bilateral tinnitus. A 5mW laser with a wavelength of 650 nm, or placebo laser, was applied transmeatally for 15 minutes, once daily for a week. A questionnaire was administered which asked patients to score their symptoms on a five-point scale, before and two weeks after laser irradiation. A decrease of one scale point, regarding the loudness, duration and degree of annoyance of tinnitus, was accepted to represent an improvement.

Results: The loudness, duration and degree of annoyance of tinnitus were improved, respectively, in up to 48.8, 57.7 and 55.5 per cent of the patients in the active laser group. No significant improvement was observed in the placebo laser group.

Conclusion: Transmeatal, low power (5 mW) laser irradiation was found to be useful for the treatment of chronic tinnitus.

Prof. Dr. Shiomi [686]
 

has investigated the effect of infrared laser applied directly into the meatus acousticus, 21 J, once a week for 10 weeks. The result of this non-controlled study is as follows: 26% of the patients reported improved duration, 58% reduced loudness and 55% reported a general reduction in annoyance.
The same author [687] has also examined the effect of light on the cochlea using guinea pigs. Direct laser irradiation was administered to the cochlea through the round window. The amplitude of CAP was reduced to 53-83% immediately after the onset of irradiation. The amplitude then returned to the original level. The results of this investigation suggest that laser therapy might lessen tinnitus by suppressing the abnormal excitation of the eighth nerve of the organ of Corti.

Dr. Hahn [1310]
 

examined 120 patients with an average duration of tinnitus of 10 years. The patients underwent pure-tone audiometry, speech audiometry and objective audiometry tests. The intensity and frequency of tinnitus was also determined. EGb 761 was administered 3 weeks before the start of laser therapy. The patients underwent 10 sessions of laser therapy, each lasting 10 minutes. An improvement in tinnitus was audiometrically confirmed in 50.8% of the patients; 10 dB in 18, 20 dB in 22, 30 dB in 10, 40 dB in 6 and 50 dB in 5 patients.
Indication
Author
Name of Publication
Publ.
Title
Laser Treatment by Tinnitus
D. Cuda
A. De Caria
International Tinnitus Journal, Vol. 14, No. 2, 175–180 2008
2008
Effectiveness of Combined Counseling and Low-Level Laser Stimulation in the Treatment of Disturbing Chronic Tinnitus
Hearing loss
and tinnitus
P. Plath
J. Oliver
Adv. Otorhinolaryngol. 1995;
49:101-4
1995
Results of combined low-power laser therapy and extracts of Ginko biloba in cases of sensorineural hearing loss and tinnitus
Irradiation on
tinnitus
Y. Shiomi
H. Takahashi
I. Honjo
Auris Nasus Larynx 1997;24(1):39-42
1997
Efficacy of transmeatal low power laser irradiation on tinnitus (a preliminary report)
Irradiation on
inner ear
Y. Shiomi
Pract Otol (Kyoto) 1994; 87: 1135-1140
1994
Effect of low power laser irradiation on inner ear (in Japanese)
Tinnitus
Therapy
A. Hahn
I. Sejna
k. Stoblova
Acta Otolaryngol 2001, 545, 92-93
2001
Combined Laser-Egb 761 Tinnitus Therapy
Tinnitus
M. Prochazka
R. Tejnska
Proc. Laser Florence 99
1999
Comprehensive therapy of patients suffering from Tinnitus
Neurootoligische Erkrankungen
R. Swoboda
A. Schott
Treatment of neurotologic diseases with Gingko biloba and low level laser therapy
1992
Behandlung neurootologischer Erkrankungen mit Ginko biloba Hevert, Hyperforat und low-Power-Laser-Therapy (Medizinische Akademie Erfurt)
Chronic tinnitus
H. Wedel
L. Calero
M. Walger
Soft-laser/Gingko therapy in chronic Tinnitus. Adv Otorhinolaryngol. 1995;49:105-8
1995
Soft-laser/Gingko therapy in chronic Tinnitus (a placebo controlled study)
Treatment of
tinnitus
F. Mirz
R. Zachariae
S. Andersen
The low-power laser in the treatment of tinnitus. Clin
Otolaryngol 1999; 24: 346-354
1999
The low-power laser in the treatment of tinnitus
Cochlear
dysfunction
W. Beyer
Light dosimetry and preliminary clinical results for low level laser therapy in cochlear disfunction.
Proc. Laser Florence 99
1999
Light dosimetry and preliminary clinical results for low level laser therapy in cochlear disfunction
Laser
irradiation of
the cochlea
S. Tauber
R. Baumgartner
K. Schorn
Experimental study for laser irradiation of the cochlea. Lasers
Surg Med 2001;28:(1):18-26
2001
Lightdosimetric quantitative analysis of the human petrous bone
Der Körper des
Menschen
Adolf Faller
Der Körper des Menschen, Thieme Verlag 1995
1995
Der Körper des Menschen
Low Level Laser
Application
H. Walter
A. Walter
Photobiological Basics of Low Level Laser Application. Dt. Z. für Akupunktur 2/97
1997
Low Level Laser Application
Low-Power
Laser Therapy
T. Karu
Photobiology of Low-Power Laser Therapy, Harwood Academic Publishers, New York 1989
1989
Photobiology of Low-Power Laser Therapy
Tinnitus
Olivier J.
Plath P.
Laser Therapy, 5:137-139, 1993,
John Wiley & Sons, Ltd.
1993
Combined low power laser therapy and extracts of Ginkgo
(You will be redirected into mymuna.com)