The NETCELL™ PVA Nasal Pack range, provides an immediate and effective solution for controlling post-operative bleeding.
• Specifically designed for use after septal, turbinate and rhinoplasty surgery
• Provides gentle, equal pressure within the nasal cavity when absorbing post-operative bleeding
• Manufactured from ultra-smooth, biocompatible PVA sponge for improved patient comfort
• Available with Integral airway tube for improved venting and reduced risk of obstruction
• Layered slimpack option allows thickness to be customised to individual requirement
• Supplied sterile, single use only, declared 5 year shelf life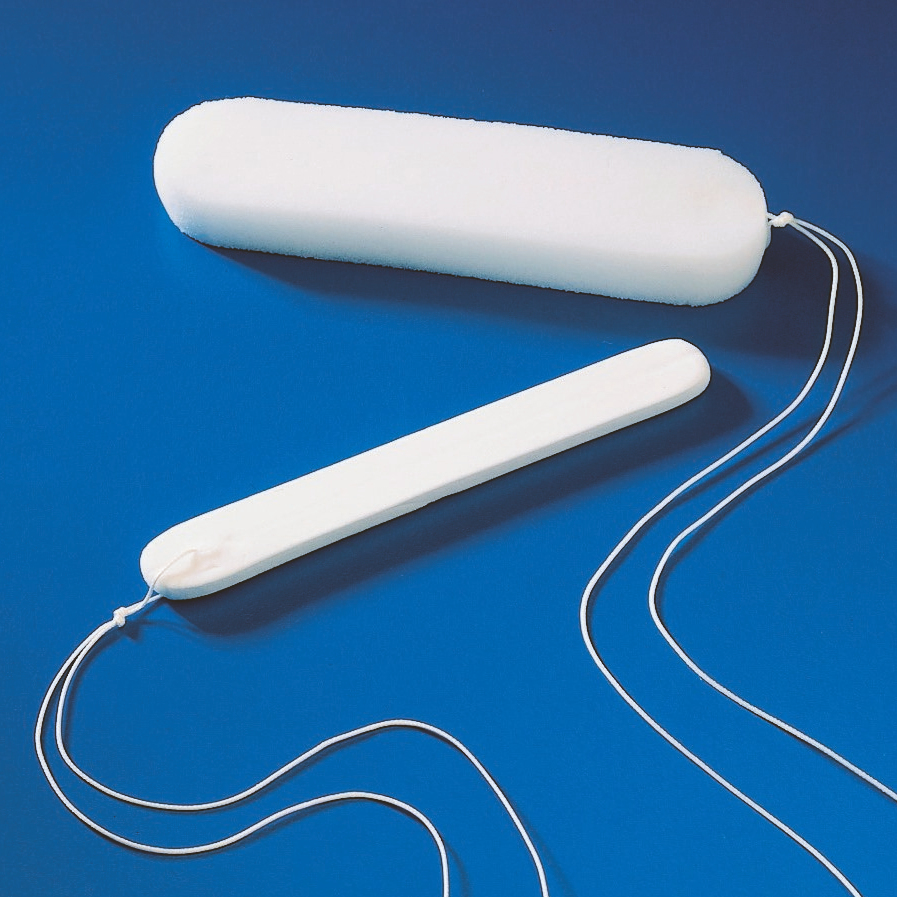 PRODUCT CODE
 

FORMAT

 

PRODUCT SIZE (CM)

 

PACKING

  10-095

 Standard

3.0 x 1.5 x 2.0

20

 10-100

Standard 

4.5 x 1.5 x 2.0

20

10-100T 

Standard with airway tube 

4.5 x 1.5 x 2.0

20

 10-101

Slimpack

4.5 x 1.0 x 2.0 

20

10-105 

Standard 

6.0 x 1.5 x 2.0

20

10-105T 

Standard with airway tube 

6.0 x 1.5 x 2.0

20

10-106 

Slimpack

6.0 x 1.0 x 2.0

20

10-110 

Standard 

8.0 x 1.5 x 2.0

20 

10-110T 

Standard with airway tube 

8.0 x 1.5 x 2.0 

20 

10-111 

Slimpack

8.0 x 1.0 x 2.0 

20 

10-111T 

Slimpack with airway tube

8.0 x 1.0 x 2.0 

20 

10-115

Standard 

10.0 x 1.5 x 2.0

20 

10-116

Slimpack

10.0 x 1.0 x 2.0

20 
Nasal Pack 100% Polyvinyl Alcohol Sponge (PVA)
Retrieval String Braded Spring Polyester – Medical – Dacron ® Polyester Fibre
Silicone Tubing 100% Silicone Platinum Cure
Pouch Packaging Tyvek/Film 
PVA sponge ENT products are designed to staunch blood loss after invasive surgery or traumatic injury in ENT surgery. The
PVA sponge reacts quickly to absorb blood and body fluids. PVA is biocompatible and in some instances can be used for postoperative
tissue support and to carry medication to the operative site (where specified in the Instructions for Use).
Nasal Packs are intended for use after septal, Turbinate and Rhinoplasty surgery and provide gentle equal pressure within the
nasal cavity when absorbing post-operative bleeding. Patient comfort can be enhanced by using an airway tube. The
slimpack version nasal pack has been developed for use in conjunction with a nasal splint following septal surgery.
Products are sterilised by Gamma irradiation from a Cobalt 60 source in accordance with a validated 25 kGy cycle. Sterilisation is carried out in accordance with the requirements of ISO 11137:2013 and the 25 kGy dose is substantiated by VD25 Method Max testing.
The instructions for use and suggested surgical technique are supplied in the form of a multi-lingual leaflet with instructions given in diagram form where appropriate. The international symbols used on the packaging are explained in each language. A leaflet is supplied with each product.
The range of PVA sponge products is supplied sterile and intended for short-term use in the nasal cavity. Therefore classification is Class I Sterile, (rule 5, Annex IX, 93/42/EEC Medical Devices Directive).